SINGLE FORK PALLET TRUCKS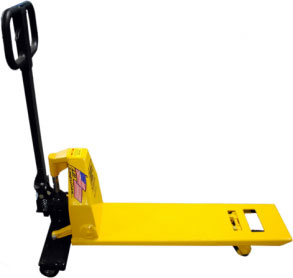 If the problem is moving pallets or other loads less than 14″ wide, the solution is Pallet Mule's single-fork pallet trucks.
Pallet Mule's single-fork pallet trucks are a unique solution. There is no more cost effective and safe solution for moving safes, vending machines, printing presses, ATM machines, and vaults and other heavy, narrow loads than the Pallet Mule single fork pallet truck. The pallet jack offers a number of unique features, including:
Three fork widths (6", 9" and 12") and any length up to 72"
Dual load wheels on 9" and 12" widths for greater stability
Load stabilizer caster steering for even greater stability and sharper turning radius
Load capacities up to 3,000 lbs.
Conformance to GMA pallet standards, the standard pallet in the grocery industry
Custom sizing for specific applications.
What makes Pallet Mule different?
Pallet Mule's are built to work in heavy-duty applications, day after day. Every Pallet Mule has:
Extensive use of ductile cast iron parts,
Heavier gauge steel in major structural components
Solid steel push rods instead of the standard tubular steel design
Premium polyurethane wheels on an aluminum core
Sealed bearings providing reduced rolling resistance and longer life
Replacement Parts are available for same day shipment when needed
Wesley International has been manufacturing Pallet Mule pallet trucks in the USA to meet our customers' specific needs for over half a century, and our customers know that we build them to last.